I want to stay focused on organization and compulsive hoarding in this blog, but I wanted to deviate a little with this post. We have recently been totally consumed with a project here at home that made a BIG difference in our lifestyle and organization. We renovated our kitchen. It started about a month ago, and the final elements are pretty much finally in place now. Just have to install in a new floor.
Our old kitchen was cramped, and by renovating we opened up a much more efficient layout. And while we more than doubled our working space, what was more important was what happened while packing up the old kitchen. We dug out all the cupboards and drawers, the pantry and appliance closet, and made some tough decisions. If you're anything like me, you probably have a pretty jammed junk drawer, right? When was the last time you went through it? When was the last time you needed even 50% of the stuff in there?
Our junk drawer had old birthday candles, expired pizza coupons, dead batteries, and countless other things that never belonged in that drawer. And really, how many bamboo skewers did we really think we'd ever use??
What's in your junk drawer?
We also found we had duplicates of things, especially plastic containers. I'm happy to say we whittled that collection down for the charity box and now have a much more manageable set of containers WITH matching lids. That certainly makes getting lunches ready in the morning easier!
Empty it out!
Even if you're not planning a full renovation, I highly recommend tackling your kitchen junk drawer. Take out EVERYTHING and put it on the counter. Have a box for charity and a bag for garbage handy. Consider each item and only put it back if you really need it. Maybe put similar items together in a zip bag, like spare batteries or clothes pins. Perhaps you find stuff that has a home somewhere else and just needs to be relocated. Suddenly, it's not so junky anymore! Power through for 15 minutes, and you'll have solid results.
We went through Ikea for our renovation. Ikea has not asked me to do this post…I'm not being compensated by Ikea, and 100% of what I say here is based on my own personal experience and opinion.
We still have to replace the floor and paint the ceiling, but otherwise are good to go!
Here's what we had before…this is from our house inspection when we bought the place. What you can't see just to the left in this photo is an eat-in area. We use our dining room for all meals, so we had cobbled together additional storage and counter space by adding a buffet and table pushed against the walls. It looked cluttered, clumsy, and was awkward to get to while working in the kitchen.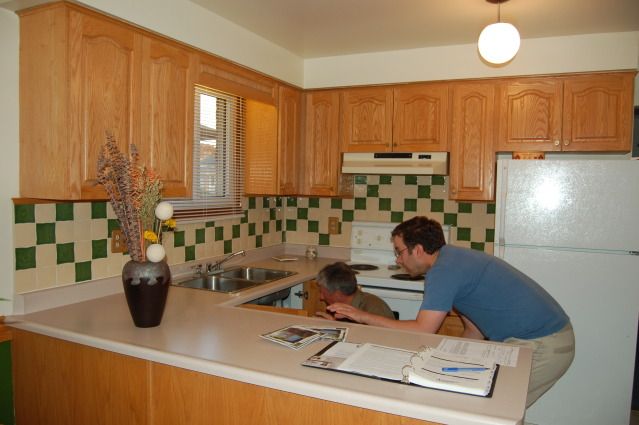 We took everything out and started from scratch with just about everything coming from Ikea.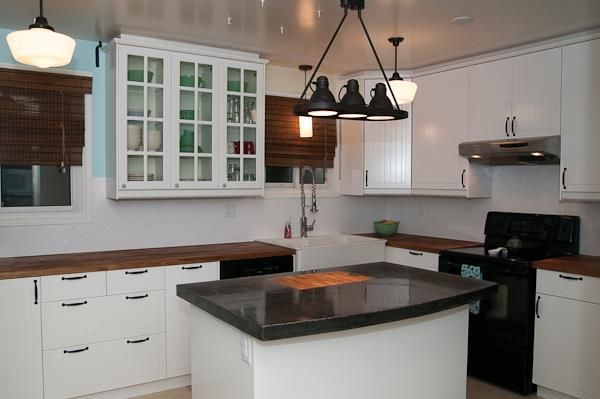 We had visited Ikea in December and got a good idea of what we wanted. Then we worked on our plans using the Ikea kitchen planner software. We learned it works better in Internet Explorer than it does in Google Chrome. I also read a lot on the Ikea Fans forum: http://www.ikeafans.com/forums/kitchen-planning/
We contacted several of their suggested installers and picked one we felt most comfortable with. He came and measured our space, and gave us better direction and advice for finessing our design.
Then we coordinated with him, our electrician, and Habitat to make a schedule. My husband and I went to Ikea to place our order on Thursday, everything was delivered Friday. Habitat for Humanity came on Friday to remove the old kitchen for free. Electrician came to do some plug moving and adding, etc. We removed the tile back splash and bulk head over the weekend.
Our installer arrived Monday and finished the drywalling from the bulkhead. He also had to fix a plumbing issue the Habitat guys caused when they removed the sink cabinet. He didn't get to building any cabs until Tuesday.
We went with Stat cupboards, oak Numerar counters except for the island, and used Ikea handles for everything except the Jadite knobs on my glass front cabs. Speaking of which, the glass fronted doors are from the Lidingo (I "think") line, not Stat.
Our installer was amazing and really meticulous. Everything fits perfectly, even with unsquare walls. He didn't rush and took his time…it was about 7 days of solid work for him, but I was very impressed.
Farmhouse Ikea sink: I love this. It's bigger than the stainless steel sink we used to have and fits a large frying pan on the bottom for soaking. The faucet was from Rona a few years ago. Pendent light is from Lowes or Rona.
Fully extendable Ikea blind corner carousel: we have 2 sets of these.  Both levels swivel out and pull forward.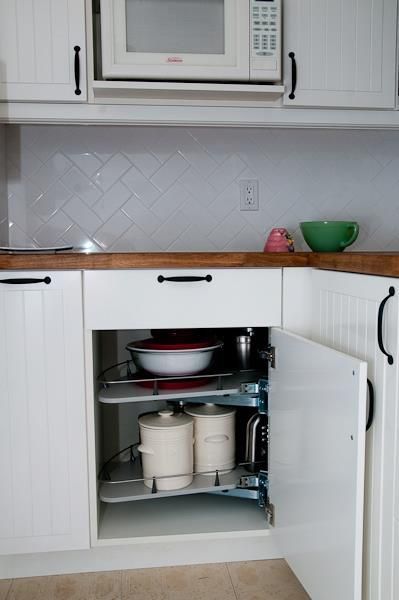 Floor to Ceiling Pantry Before: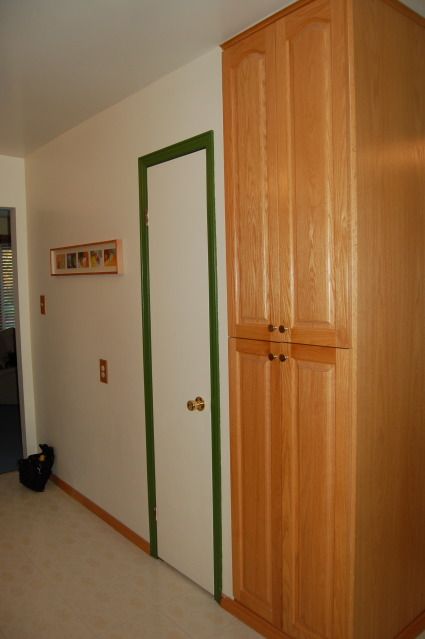 And After with Ikea pull out shelves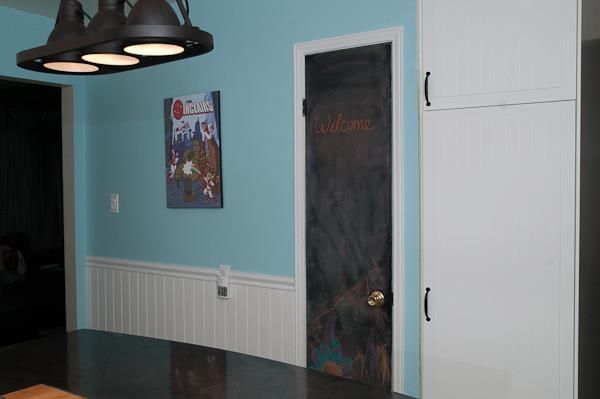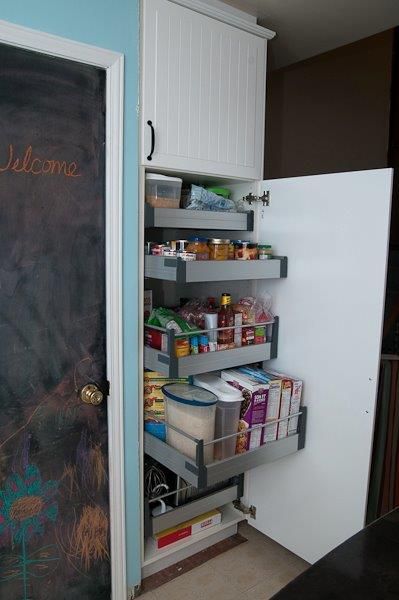 Stove area was moved almost 2 feet to the right…it was previously right by the sink and didn't leave any room for someone to do cooking and someone else to do cleaning at the same time.  We replaced the range hood with a stainless steel model from Home Depot.  The white stove was the previous owners, and the black stove is ours.  We'll eventually change it for an induction cooktop.  We also moved the fridge.  It used to be just to the right of the stove…now it's on the other side of the room.
Before

After

Numerar Countertops: these have to be oiled often for the first little while and then less as time passes.  If they should happen to stain, we can sand it away.  They grow warmer in tone the more they're oiled and used.  We had such little counter space before, this is very luxurious for us.  The school house lights are from Rona.  I'm glad to have the microwave OFF the counter, and the wine rack is handy.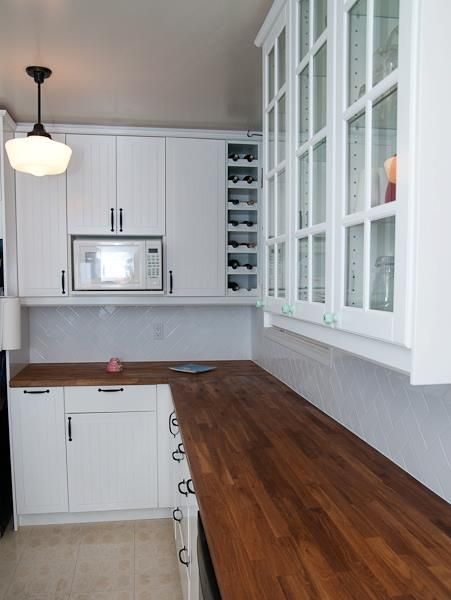 Jadite Knobs I bought from an Etsy vendor: http://www.etsy.com/shop/prettyware
And now for the island.  We had originally planned to put the same wood on the island, but when we put in our order, that size was not available and no hint as to when it would be coming in.  So we started looking at other options.  I didn't really want granite, but I priced out copper, soapstone, and concrete.  Concrete won, and I found a local vendor to custom create this for us.  I wanted something with a worn, aged look.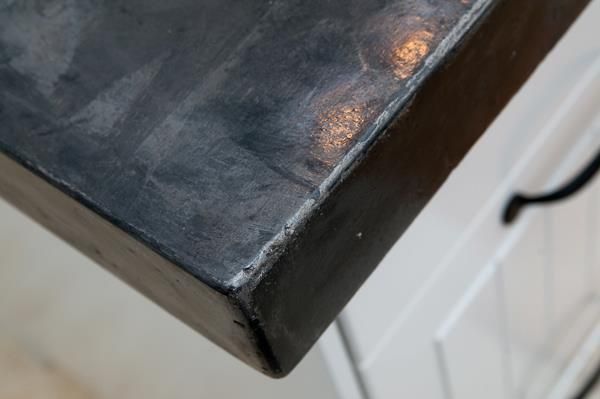 Here you see the inlaid cutting board.  We're also planning on getting a piece of marble to fit the same spot for chocolate and pastry work.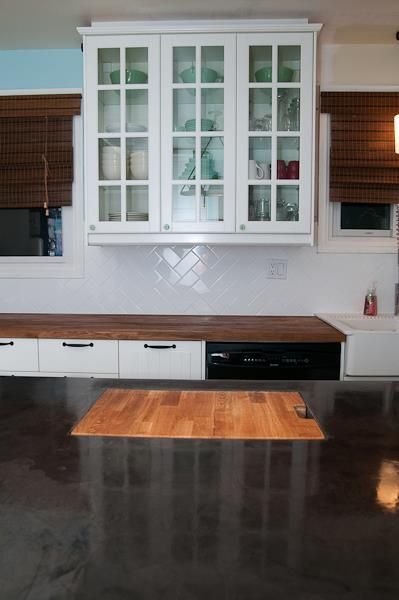 I was also very happy with my tile guy.  He quoted a great price to do the backsplash and there's 45 square feet there!  It's a complicated pattern to make consistent and it involves a LOT of extra cutting but close inspection shows he knew his stuff! Tiles were .24 cents each.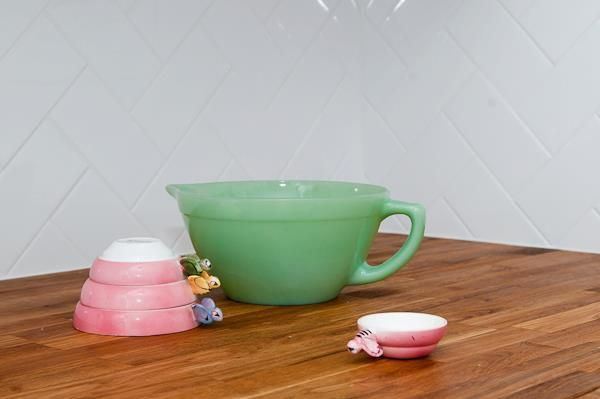 Overall, we spent under $15,000.
The only real hiccup was with Ikea delivery.  There was a large cover panel which did not arrive with our order and our installer needed it to move forward.  He pointed it out as soon as he noticed and it took several calls back and forth with Ikea to get it delivered in good time as to not stall the whole schedule.  I didn't feel the Ikea store manager made a good effort to contact me and keep me in the loop about this, and trying to get a hold of anyone from the store on the phone was impossible.  You can only reach their call centre in Montreal.  BUT it did get resolved, installation continued, and I'm now delighted with our new kitchen.
It's made sharing the space with our children a real joy.  It's so fun to have proper space to work with them at the island baking cookies, and not be crowded.  Once we have the floor in, we'll finally invite our friends in for a meal and we can't wait to let the party end up in the kitchen.
If anyone else is considering an Ikea kitchen, I definitely recommend it.  And if you're in west GTA, I can recommend some vendors who won't disappoint.